Germany has never ranked high on my list of countries to visit. To be honest, I'm not overly keen on visiting the German cities that everyone else seems to get excited about, and that includes Berlin. If it weren't for the fact that I've got a close relative living in Frankfurt and a friend in Darmstadt, I would have probably never considered visiting Germany. ​
Well, I travelled to Germany twice in 2016 and I loved it. The fairytale-like villages took up all the memory space in my camera, and the delicious flammkuchen (which I ate almost every day) has become one of my favourite foods. ​
From exploring Jewish heritage in gorgeous old towns to chasing beavers in parks (umm… more about that in a minute), I got to experience Germany beyond the vibrant metropolitan cities that the country is famous for.
Here are 5 beautiful places in Germany that stole my heart (they'll probably steal yours, too!).      
1. The old town of Limburg
Picture twisting, cobbled lanes, lined with colourful, half-timbered buildings housing cute cafes and artisan shops. This is Limburg, one of the best preserved historic sites in western Germany. Once you get there, you'll find it difficult to leave, especially if you're carrying a camera.
If you've read some of my previous posts, then you're familiar with the fact that I'm obsessed with taking photos (not selfies though, so I guess it's a healthy obsession). Limburg is packed with architectural gems, including an impressive seven-towered cathedral and a building with statues of demon-like beasts perched on the facade. I just couldn't put my camera down. ​
Situated on the banks of the Lahn River, Limburg developed around a 7th- century castle of the same name. The first recorded mention of the town appears in documents dating back to the year 910.
Limburg is home to the oldest free-standing house in Germany, known as Römer 2-4-6, and the Werner-Senger-Haus; a 13th-century building which houses one of the oldest restaurants in the country.      
Limburg is the place where I first had flammkuchen; a thin-crust pizza that is traditionally topped with goat cheese, onions and lardons. From then onwards, it became the first thing I looked for on the menu every time we ate out, which is probably the main reason why I ended up with an expanded waistline after ten days in Germany.
Clearly, walking around beautiful old towns like Limburg for two hours a day wasn't enough to keep my weight in check – although stopping every three minutes to take photos did not help.      
2. The quirky city of Darmstadt ​
When my friend, Ulli, invited me to spend a week with her in Darmstadt, I wasn't sure what to expect. I didn't know much about the place and somehow I pictured it as being a dull, industrial city. Well, I had been wrong. In fact, Darmstadt turned out to be one of the quirkiest places I've ever visited. Moreover, Ulli made sure that I got every bit of historic detail about the city and its main sites. ​
We started our tour of Darmstadt in an area known as Mathildenhöhe, which is home to the Wedding Tower and the Russian Chapel. The latter was built in the last 19th century and was used as a private chapel by the last Tsar of Russia, Nicolas II, during his visits to Germany (his wife, Alexandra, was born in Darmstadt). Adorned with intricate details and vibrant colours, the chapel was erected on soil brought from Russia and built with Russian stone.      
Our next stop was at the Wedding Tower, a seven-storey monument commissioned by the Grand Duke of Hesse Ernst Ludwig to commemorate his marriage to Princess Eleonore Solms-Hohensolms-Lich on the 2nd of February, 1905.
The tower was inaugurated in 1908. We went up to the observation platform on the top floor, which offers a panoramic view of the entire city. I could even make out Frankfurt's skyline in the distance. ​ Darmstadt boasts many scientific institutions and centres, as well as numerous high-tech companies. In fact, Darmstadt is known as the City of Science, and is home to the world's oldest pharmaceutical company, Merck.
However, there are some things that the city is not exactly proud of. ​ Darmstadt was the first German city to clamp down on Jewish shops. Synagogues were set on fire, and private properties owned by Jews were destroyed. In 1942, around 3,000 Jews from Darmstadt were sent to concentration camps. The streets of the city centre are embedded with memorial plaques marking the buildings and areas where Jewish families once lived.      
Later that day, I got to see yet another unusual architectural masterpiece in Darmstadt; The Waldspirale. This quirky, multi-coloured residential complex was designed by Austrian artist Friedensreich Hundertwasser.
There are over 1,000 windows in the building, each having a unique shape and style. The Waldspirale also features curved corners and irregular lines, which are typical elements of Hundertwasser's offbeat style. ​
The highlight of the day was an evening walk through a lovely park in a residential area. As we were walking along the lake, I caught a flicker of movement from the corner of my eye. A rat-like creature darted out of a bush and scurried towards the water. I hurried after it, camera at the ready.
It took me a while to identify the rodent. The beaver paddled close to the shore, unperturbed by the presence of two curious humans. A second beaver emerged from a shrub and joined its friend for an evening swim. I followed them along the shore, trying not to tumble into the lake in the process. ​
The park was busy. A couple of children ran past us, scaring the beavers away. We walked across a picnic area which was teeming with families sprawled on the grass. I heard at least five different languages along the way, including Arabic and Turkish.
Like many other cities in Germany, Darmstadt is a melting pot of cultures. Ulli teaches physics and religious studies at a local state school. It is one of the few schools in Germany where students from different cultural backgrounds sit together for the same religion class.      
3. The historic city of Heidelberg
Well, I fell in love with Heidelberg the moment I got there. Brimming with charm and colour, this historic city is the epitome of German Romanticism and one of the most beautiful places in Germany.
We wandered through the Old Town in 30ºC, stopping frequently to admire the rows of stunning, pastel-coloured buildings lining the winding streets. ​ Located on the banks of the Neckar River, Heidelberg is one of the few cities in Germany that escaped bombing in WWII. In fact, this beautiful city boasts a wealth of well-preserved baroque buildings, as well as being home to the oldest university in Germany.
In 2014, Heidelberg was named a UNESCO City of Literature for its thriving literary scene.      
Perched on a forested hill, the impressive ruins of Heidelberg Castle tower majestically over the city. The castle complex is made up of structures from different periods. The earliest castle structure dates back to the 13th century, and throughout the following centuries the existing site was expanded until it became one of the grandest and most notable palaces of the Renaissance. ​
After spending a few minutes absorbing the breathtaking views of the Neckar River and the Old Town from the castle ramparts, we went to see something that was equally breathtaking; the world's largest wine barrel. Constructed in 1751, the Great Heidelberg Tun holds 219,000 litres of wine, and has a dance floor built on top of it!      
I've had one of the best meals of my life in Heidelberg. I ordered flammkuchen (yet again), and washed it down with a glass of Federweisser.
This was one was topped with rucola, goat's cheese and walnuts, and drizzled with honey – oh, it was just divine.
I would happily return to Heidelberg just to have the same flammkuchen from the same place again.    
Recommendation: Explore the fascinating history of Heidelberg and its quaint streets on a walking tour of the Old Town.
4. The fairytale-like town of Michelstadt ​
If I ever get rich, I'll buy a house in the picturesque Old Town of Michelstadt. Although toward the end of my second week in Germany I had seen enough half-timbered storybook towns, this one is something special.
Situated between Darmstadt and Heidelberg, Michelstadt is one of the oldest settlements in southwestern Germany. The old town features many stunning timber-framed buildings, the most significant being a 15th-century town hall in the historic market square. ​
After having lunch in a gorgeous beer garden (I decided to be a bit more adventurous this time and ordered trout), Ulli and I took a walk through the quiet, cobblestoned lanes behind the market square. It was here that we came across a curious sign, pointing towards a place called Jerusalem Boutique.      
The moment we stepped through the door, we found ourselves in a different world, surrounded by all sorts of beautiful, exotic things. It felt as if we had just walked into a treasure chest.
Silver and golden amulets curtained the wall. On my right, an assortment of chunky bracelets and rings had been neatly laid out on a table, next to rows of colourful, glass candle holders.  
"Hello." ​
I turned around, startled. A woman in her sixties or thereabouts was sitting in one corner of the shop, wearing a beautiful caftan. She stood up, using a cane for support, and introduced herself as the owner of the shop.
Born in the Netherlands, Joliene spent some time living in Tel Aviv before settling down in Michelstadt with her late husband. She is one of the few remaining Jews in Michelstadt.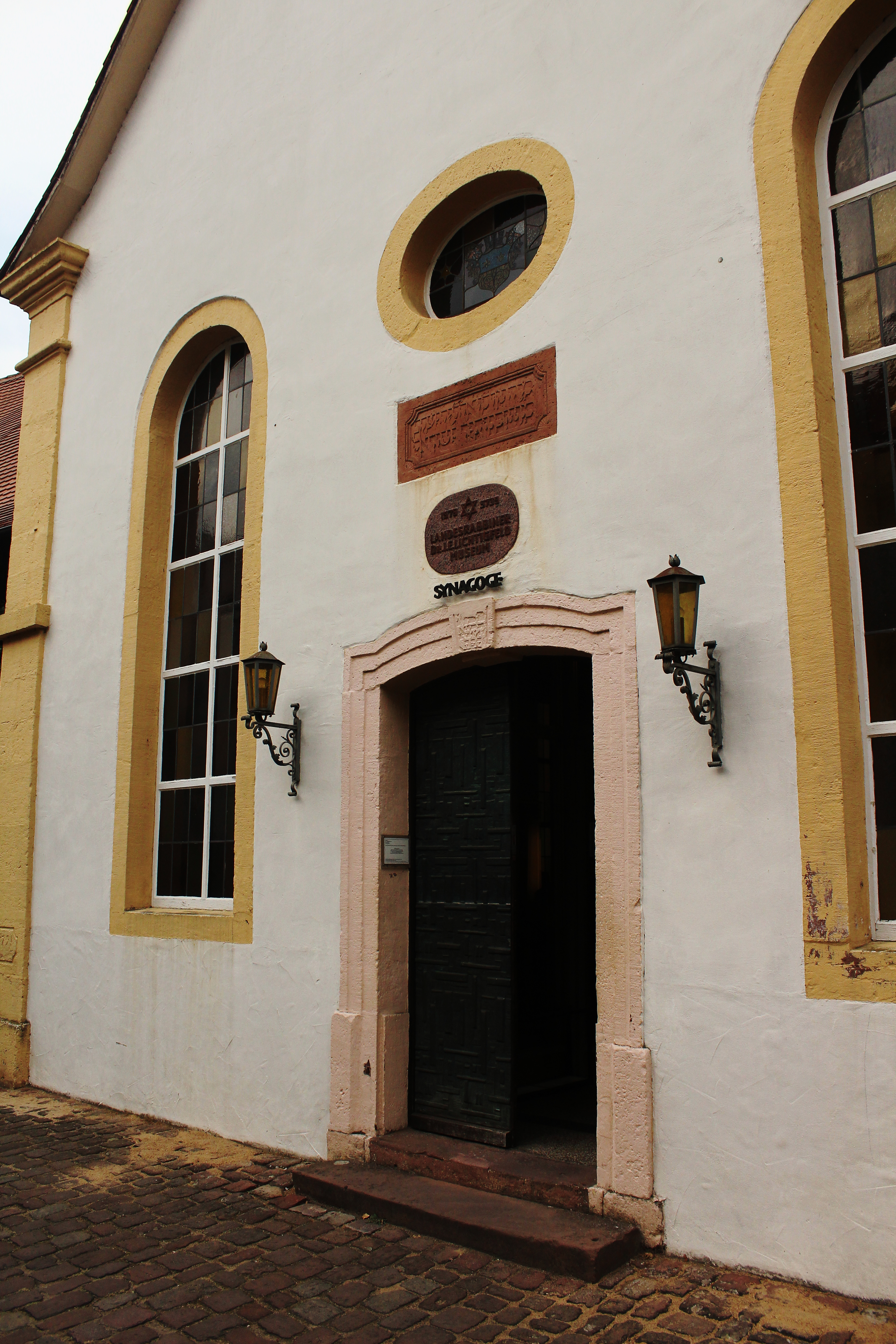 In the 1930s, there were around 90 Jews living in Michelstadt. At least 53 local Jews perished during the Holocaust, while the town's synagogue was turned into a shed for storing iron. In the 1990s, a new Jewish community was established in Michelstadt, however many Jews have since emigrated.
The synagogue, which was restored in the 1970s, nowadays houses a Jewish museum. ​ Joliene told us that being Jewish in a small, traditional German town hasn't been easy for her. She occasionally finds threatening notes under her door, and a few days earlier a man had walked into her shop, telling her that Jews are not welcome in Michelstadt. ​
"I can only pray to God for protection," Joliene told us before leaving her shop, whilst thanking us for keeping her company for almost two hours.      
5. The stunning Eltz Castle ​
If I ever get rich, I will also buy this castle. It might not be as majestic as Neuschwanstein, but Burg Eltz is by far one of the most beautiful castles in Europe. ​
Tucked among the forested hills of the Eltz Valley, this gorgeous castle dates back to the early 12th century and is privately owned by a branch of the same family who originally lived in it. Parts of the castle are open to the public, where you can see some of the room's original furnishings and well-preserved frescoes.      
While there is a shuttle bus that drops you right in front of the castle, we decided to hike for about half an hour along the unspoilt Eltzbach Valley. The path starts from the lower car park and offers a panoramic view of Burg Eltz and its fairytale-like surroundings. I was completely blown away by the sheer beauty of this place. ​
Well, I can honestly say that these beautiful places in Germany have won my heart and I would happily go back to explore more of the country – and feast on more flammkuchen.
• • •
Enjoyed this post? Pin it!
This post contains affiliate links. This means that I may receive a commission on any purchases made through the links in the post at no extra cost to you.