Edinburgh is hardly ever described as a romantic city. Its sinister buildings, dark history and not-so-favourable weather don't exactly set the scene for romance. However, there are several romantic spots in Edinburgh, many of which are tucked away from the busy city centre.
While its hospitality and openness make Edinburgh one of the best destinations for solo travellers, the city is also perfect for couples. There are many cosy cafes in Edinburgh where you can sip a nice drink, as well as a few beautiful green areas where you can enjoy a quiet stroll.
If you're looking for romantic things to do in Edinburgh, you will find some great ideas in this post, whether you and your loved one want to take some nice photos with stunning backdrops or explore the city beyond the main attractions.
---
Recommended hotel in Edinburgh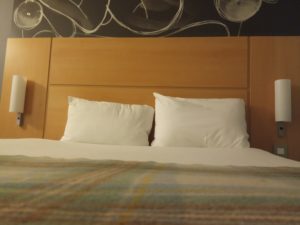 If you're looking for a central hotel in Edinburgh, I highly recommend staying at ibis Edinburgh Centre on South Bridge (just around the corner from the Royal Mile).
My husband I have stayed here a couple of times and we loved it. The rooms are very clean and modern – and the beds are super comfy!
The ibis also has eco-friendly bathrooms and free Wifi.
---
1. Watch the sunset from Calton Hill
Calton Hill offers panoramic views of Edinburgh and it's also a perfect picnic spot on warm days. While the hill is a popular tourist attraction, it tends to be less busy in the evening. On a clear day, you can take in the beautiful sight of the sun setting over the city.
Alternatively, if you're feeling a bit more adventurous, you could watch the sunset from Arthur's Seat, where you are more likely to find a quiet spot. It also tend to get a bit chilly on the hills at sunset – perfect excuse for a cuddle!
2. Enjoy a glass of wine at Leith's waterfront
Leith is possibly the coolest neighbourhood in Edinburgh. If you want to explore Edinburgh beyond the guidebook, visiting Leith is a must. This port district is home to various quirky cafes and thrift shops, while the waterfront is lined with cosy pubs and restaurants.
Places like The Shore, Finn & Bear and Toast have outdoor seating, so you can sip a nice glass of wine or some craft beer while enjoying the sea breeze.
3. Walk from Dean Village to Stockbridge
Dean Village is one of the most picturesque areas in Edinburgh. Situated along the Water of Leith, Dean Village is known for its gorgeous old houses and cute cobbled streets. From here, you can enjoy a quiet, romantic walk along the stream towards another beautiful neighbourhood, Stockbridge. The path is surrounded by lush greenery and there are several benches overlooking the stream.
4. Step back in time at the Cameo Cinema
For a truly romantic and unique evening, head to The Cameo, one of the oldest cinemas in Scotland. Watching a film at the Cameo is like stepping back in time – the place has retained some of its original architectural features and design. The cinema screens both mainstream and indie films, as well as the occasional classic.
Along the way, you will come across an intriguing structure known as St. Bernard's Well. Built in 1789, the well features a statue of Hygieia, Goddess of Health. Unfortunately, the well is only open once a year on Doors Open Day.
5. Go for a stroll along Portobello beach
You might be surprised to learn that you can actually spend a day at the beach in Edinburgh. Portobello is a quaint seaside suburb of Edinburgh, home to a two-mile sandy beach. While the sea is often too cold (even in summer), you can still enjoy a lovely walk along the beach or a nice drink at one of the cafes along the promenade. Portobello beach is also a great location for watching the sunset on a nice, clear day.
6. Indulge in chocolate
If you and your loved one share a passion for artisan chocolate, there are several places in Edinburgh where you can indulge in all things chocolatey. Start at Bruntsfield Place, where you can find two amazing chocolate places: The Chocolate Tree, a coffee shop that has a selection of handmade organic chocolates, and Coco Chocolatier, a chocolate shop where you can also book a chocolate-making class.
You can also indulge in chocolate at Coro the Chocolate Cafe and Hotel Chocolat Cafe on Frederick Street (New Town).
7. Have a picnic at the Royal Botanic Garden
The Royal Botanic Garden is undoubtedly one of the most romantic places in Edinburgh. The garden is a wee slice of paradise in the heart of the city. There are different areas to explore, each with its own charm and beauty, and you can easily spend a day strolling through the 70 acres of beautiful landscape.
8. Treat your partner to afternoon tea on a bus or a barge
Want to surprise your significant other while you're in Edinburgh? Book an afternoon tea experience… with a twist! Get a tour of Edinburgh on a 1966 Routemaster Bus while gorging on tasty treats, or escape the busy city centre by going on a cruise along the Union Canal and enjoying afternoon tea on a comfortable barge.
On a nice day, you can enjoy a picnic in a quiet spot among the trees and shrubs, or just absorb the view of the city's skyline from the garden's terrace cafe.
9. Meet the squirrels in George Square
Obsessed with squirrels? Head to George Square on the University of Edinburgh campus, where the garden is populated by friendly squirrels. If you want to get close to these cute creatures, I highly recommend taking some squirrel food or natural raw nuts. Please avoid feeding them human food.
This garden is also a nice place for a picnic, so you can indulge in some chocolate and wine in the company of curious squirrels.
10. Go stargazing at the Royal Observatory
For the ultimate romantic experience in Edinburgh, spend Friday evening at the Royal Observatory. The Astronomy Evenings held on Fridays allow visitors to explore the Victorian telescope dome and stargaze on the roof.
• • •
Enjoyed this post? Pin it!
This post contains affiliate links. This means that I may receive a commission on any purchases made through the links in the post at no extra cost to you.