Edinburgh is one of the most loved cities in the world. Not only is the Scottish capital steeped in rich (and gory) history, but it is also home to a vibrant cultural scene. The city stuns visitors with its world-famous castle, as well as its beautiful Victorian and Georgian architecture, while also playing host to a variety of festivals, including a few offbeat events.
In this blog post, I have rounded up the best things to do in Edinburgh (all tried and tested by yours truly), from the touristy to the not-so-touristy. Regardless of when you visit, there's plenty to keep you busy during your stay in Edinburgh.
So, without further ado, here are some of the best Edinburgh attractions and activities.
---
Recommended hotel in Edinburgh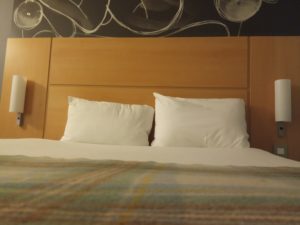 If you're looking for a central hotel in Edinburgh, I highly recommend staying at ibis Edinburgh Centre on South Bridge (just around the corner from the Royal Mile).
My husband I have stayed here a couple of times and we loved it. The rooms are very clean and modern – and the beds are super comfy!
The ibis also has eco-friendly bathrooms and free Wifi.
---
1. Grab a bite to eat or a unique souvenir from the Grassmarket
Formerly a place of public executions, the Grassmarket is nowadays a hive of activity (not of the gory type), where you'll find a variety of restaurants, pubs and cafes, plus a few quirky shops. Make sure to check out the much-loved Aha Ha Ha Jokes & Novelties.
Every Saturday, local farmers and food artisans set up stalls with mouth-watering treats, including homemade pastries, cheeses and freshly baked bread. There are also stalls with vintage items and bric-a-brac, like vinyl records, coins and ornaments, as well as beautiful hand-crafted gifts.
Tip: On a nice, warm day, you can also enjoy some delicious homemade ice-cream from Mary's Milk Bar.
2. Go up Arthur's Seat
Wherever you are in Edinburgh, you can always feel the presence of Arthur's Seat at your shoulder. The remnants of an extinct volcano, Arthur's Seat looms over the city at 251m above sea level.
The climb to the viewpoint is not as daunting as it looks, and there are different paths you can take to get to the rocky summit.
Your reward? Well, you'll get some staggering views of Edinburgh.
Tip: You need at least two hours to go up and down Arthur's Seat. Check out this guide for more information about the walk.
3. Go for a stroll in Leith
The Port of Leith is definitely worth a visit if you want to get out of the city centre for a day. The old maritime centre of Edinburgh, Leith is now home to a bustling shopping mall, but many tourists head to the port to see the Royal Yacht Britannia; the Queen's floating residence.
Instead of taking the bus to the port (Ocean Terminal), you might want to follow the path along the river, known as the Water of Leith Walkway. This public footpath passes through some of the most beautiful areas in Edinburgh, tucked away from the commotion of the city centre. This walk is also a great way to explore the non-touristy side of Edinburgh.
There are plenty of pubs and cafes in Leith, particularly at The Shore, where you can enjoy a drink and a nice meal at the waterfront.
Tip: Clock Cafe & Bistro in Leith serves delicious and cheap meals. After lunch, you can head to Mimi's Bakehouse for a sweet treat.
4. Explore Dean Village & Stockbridge
Tucked away from the hustle and bustle of the city is the charming Dean Village, where chocolate-box houses sit on the banks of the Water of Leith. It's easy to forget that you're in Edinburgh when visiting this sleepy village, despite being a mere five-minute walk from the city centre.
Dean Village used to be a grain milling area, where eight mills were powered by the strong currents of the river. One you get there, keep following the footpath along the Water of Leith until you arrive in the gorgeous neighbourhood of Stockbridge.
There are several nice gift shops and cafes in Stockbridge. Some of my favourite outlets in Stockbridge include Caoba, a gift shop with colourful Mexican-inspired items, Soderberg, a Swedish bakery and coffee shop, and Cafe No. 33, a vegetarian cafe.
5. Have a picnic in Princes Street Gardens
You'll find it hard to believe that these beautiful gardens used to be a boggy lake. On a nice day, Princes Street Gardens are teeming with people basking in the sun. If you need to give your feet a well-deserved rest, grab some food and plant yourself in the gardens, under the watchful eye of the castle.
I also recommend climbing up Castle Hill for beautiful views of the New Town. There is a path that zigzags across the hill, plus a few benches where you can rest and just take in the views.
6. Watch the sunset from Calton Hill
Calton Hill is the place to go for some great shots of the city. Crowned with an Athenian acropolis, which was erected as a memorial to those who perished in the Napoleonic Wars, Calton Hill is a popular spot among tourists and local photographers.
Calton Hill is also one of the best places to watch the sunset, especially during spring and summer, when the days are longer and the evenings are warmer.
7. Step into paradise at the Royal Botanic Garden
The Royal Botanic Garden is simply a wee slice of paradise in the city, and you can explore it for free! Stroll through 70 acres of gorgeous landscape, with hidden paths and wee mazes. You may end up sending a whole day here, especially if you're an avid nature photographer.
If you get tired of all the sightseeing, head to the botanic garden with a book and plant yourself in a nice spot. You can even treat yourself to a nice hot drink and cake from the terrace cafe and just take in the beautiful views of the city's skyline.
8. Get to know Scotland's famous writers at The Writers' Museum
The Old Town of Edinburgh is characterised by towering tenements and narrow streets. In the seventeenth century, the need to accommodate for the growing population inevitably led to higher buildings and the narrowing of existing passageways.
The enclosures between tenements, also referred to as 'closes', became Edinburgh's slum areas. Nestled in one of these closes, you can now find one of Edinburgh's lesser-known gems; the Writers' Museum.
Situated in Lady Stairs Close, The Writers' Museum boasts a collection of manuscripts, furniture pieces and everyday necessities that had once belonged to Scotland's finest writers. Visitors get an insight into the lives of Robert Louis Stevenson, Robert Burns and Sir Walter Scott, including an invitation into the latter's dining room.
9. Get lost in an illusion at Camera Obscura
Close to Edinburgh Castle is an entrance into the world of illusions and magic, the Camera Obscura. Founded in 1835, this museum is one of the oldest tourist attractions in Edinburgh. The museum's collection of optical illusions will make you see everyday situations through a different lens (literally), which might leave you feeling rather mystified, and perhaps even a bit light-headed.
Camera Obscura is great fun. You also get amazing views of Edinburgh from the roof. Make sure to book your Camera Obscura tickets in advance to skip the queue.
10. Venture into the city's haunted underground
The underground vaults located beneath Edinburgh's South Bridge were once used as storage space by tradesmen in the late eighteenth century. As the industrial revolution gained momentum, these merchants had to abandon the vaults due to the incessant amount of sewage that had started to leak through the ceiling.
The vaults were later occupied by the city's poorest families. At the same time, these underground chambers became a target area for robbers and murderers, including the notorious serial killers Burke and Hare.
During the Great Fire of 1824, many town dwellers took refuge in the vaults, thinking they would be completely safe within stone walls. However, they did not realise that stone would gradually heat up, which led to hundreds of people trapped inside the vaults being cooked to death.
Tip: I've been on several ghost tours in Edinburgh. I highly recommend this tour of the underground vaults in South Bridge, which is supposed to be the most haunted place in Edinburgh.
11. Visit Edinburgh Castle
It might be the most touristy thing to do in Edinburgh, but you can't visit the Scottish capital without exploring its star attraction. Scotland's iconic castle houses the country's Crown Jewels, the stunning Great Hall, and the oldest building in Edinburgh; St. Margaret's Chapel, among other historical treasures.
You'll need at least half a day to explore the castle, and I highly recommend booking your tickets online to beat the queues.
Tip: Want to make the most of your Edinburgh Castle experience? Check out this very popular and highly-rated skip-the-line Edinburgh Castle Walking Tour.
12. Experience the Fringe and the Royal Military Tattoo
Edinburgh becomes one big festival venue in summer, as thousands of tourists flock to the city to attend the world-famous Edinburgh Festival Fringe and The Royal Military Tattoo.
The Fringe celebrates the world of art and culture with an array of shows held at different places across Edinburgh. Some of the shows are free, while others are ticketed. Whether you love stand-up comedy, world-class dance performances, weird shows and all things bizarre, you'll definitely find something to watch at the festival.
Tip: Streets, theatres and pubs are packed throughout the months of July and August, so you should only visit Edinburgh in summer if you're willing to join the festive buzz… and pay higher prices for accommodation.
13. Attend a pagan festival
Want to attend one of the most amazing events in the world?
Every year, the Beltane Fire Society traces the pagan roots of May Day and brings the ancient sabbath to life on Calton Hill. The Beltane Fire Festival is a reenactment of the pagan ritual of the May Queen and the Green Man. Fire dancers give a spectacular show, while performers covered in tribal body paint dance to the beat of drums.
Another equally awesome event is the Samhuinn Fire Festival, organised by the same community. Held on Halloween (Samhuinn in Scottish Gaelic), this festival marks the transition from summer to winter with drumming, fire and dancing.
14. Explore Edinburgh's lesser-known castle
Craigmillar Castle may not be as popular as Edinburgh Castle, but its ruins are a playground for curious explorers. This is one of the best-preserved medieval castles in Scotland and for a while served as the residence of Mary, Queen of Scots.
The castle has a network of secret passageways and chambers, and its towers offer panoramic views of Edinburgh's outskirts. You can also spend some time exploring the castle's beautiful surroundings.
15. Step back in time at the National Museum of Scotland
Museums aren't everyone's cup of tea, but the National Museum of Scotland is something special. Delve into the fascinating history of Scotland, marvel at fascinating artefacts from different cultures, explore scientific inventions, and learn more about some of the world's most amazing creatures.
You may also want to go up to the terrace where you get some staggering views of Edinburgh.
Tip: Make sure not to miss the Millenium Clock Tower, which plays every hour on the hour.
16. Take a food tour with a local
Scottish cuisine doesn't get the attention and praise that it deserves. Believe it or not, Scottish food is more than just haggis and deep fried mars bars.
Get a true taste of Scotland by taking a food tour. When I lived in Edinburgh, I went on a Secret Food tour led by a fellow Edinburgher, and got to visit cafes and restaurants that I'd never been to. We tried a variety of local dishes and sweets, including cullen skink, local cheeses, fudge and whisky. I also learnt a lot of interesting things about Edinburgh.
17. Go for a breezy walk along Portobello beach
Did you know that Edinburgh is home to a beautiful sandy beach?
Portobello is a lovely neighbourhood situated along a long stretch of sandy coastline. The promenade is lined with beautiful Victorian beach houses, as well as a few cafes.
The beach is very busy on a warm summer day. This is also a great spot for watching the sunset.
18. Pop into the secondhand bookshops
If you love books, make sure you check out some of Edinburgh's second-hand bookshops. You can find some of the most beautiful bookshops in Edinburgh on West Port, a street close to the Grassmarket.
Armchair Books, Peter Bell Books, Edinburgh Books and Cabaret Antiques & Curious are packed to the rafters with books.
19. Take a trip to South Queensferry
Want to get out of the city, without leaving the city? Take a trip to South Queensferry, a beautiful suburb of Edinburgh that sits on the Forth a Firth. This area is known for the Forth Bridge, a railway bridge built in the late 1800s, considered to be an architectural marvel.
South Queensferry is home to some of the best fish and chips in the country, as well as a few good ice-cream parlours.
20. Hike the Hermitage of Braid Trail
Fancy a wee hike in Edinburgh? Go for a walk through The Hermitage of Braid, a woodland not far from the city centre (you'll need to get the bus to Comiston Road in Morningside). There is a clear path that runs along a stream. This is also a great spot for cyclists.
You could also climb Blackford Hill, which offers panoramic views of the city and the Firth of Forth.
Want to go hiking in Edinburgh? Check out these scenic hiking trails.
• • •
Enjoyed this post? Pin it!
This post contains affiliate links. This means that I may receive a commission on any purchases made through the links in the post at no extra cost to you.