Serbia is undoubtedly one of the most underrated countries in Europe. Home to numerous natural parks with unspoilt forests and impressive gorges, this landlocked Balkan country is the perfect European destination for outdoor enthusiasts and offbeat travellers. What's more, Serbia is relatively cheap, while also being one of the least-touristy places in Europe.
If you want to explore Serbia beyond Belgrade, head to the country's western region, which is adorned with staggering mountains and unspoilt forests.
Here are 5 amazing places to visit in Serbia.
Tip: If you want to explore western Serbia, I highly recommend staying in Uzice, a city located in a valley surrounded by rugged hillsides. There are many day trips you can take from Uzice, but you might want to rent a car or get a taxi – the country's bus service is very unreliable.
1. Tara National Park
​Serbia boasts several mountain ranges, including the Carpathians and the Dinaric Alps. The latter cover a large part of the country's western region and are home to many species of wildlife, including wolves and brown bears.
Forming part of the Dinaric Alps, Tara Mountain stands at 1,000-1,500 metres above sea level and is covered with dense forests and sweeping meadows. In 1981, a large part of the mountain was declared a national park. ​
Tara National Park encompasses a range of mountain peaks laced with deep gorges. One of these gorges is the Drina Gorge, which forms a natural border between Serbia and Bosnia & Herzegovina, and can be toured by boat. There are around 25 marked hiking trails in the park, as well as many cycling routes.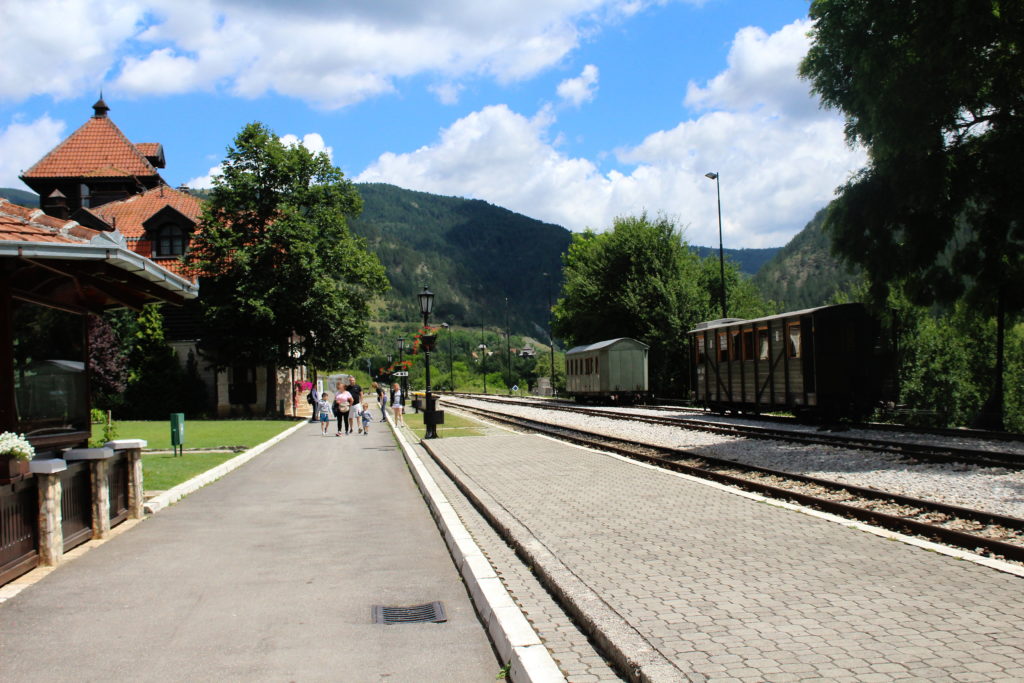 2. Mokra Gora
​Charactertised by lush green valleys and dense pine forests, Mokra Gora, which means 'Wet Mountain', is truly magical. Old mountain cabins and Alpine-style houses dot the wooded hillsides, surrounded with valleys and gorges. The mineral springs found in Mokra Gora are believed to cure eye diseases. ​
The best way to absorb the stunning scenery of Mokra Gora is to get on the Sargan Eight; a narrow-gauge, 8-shaped heritage railway that cuts through the steep, rocky mountainside.  
3. Drvengrad
​Perched on a hilltop in Mokra Gora, the wooden village of Drvengrad is characterised by unique log cabins and cobbled paths. Drvengrad was built by Serbian film director Emir Kusturica, who is mostly famous for his film Life is a Miracle. Kusturica named the streets of the village after people whom he holds in high esteem, including Nikola Tesla, Che Guevara and Ivo Andric. ​
Every year, Drvengrad plays host to the annual Küstendorf Film and Music Festival for aspiring artists and filmmakers. The village also has a library, an artist gallery, an underground cinema (named after Stanley Kubrick) and a cake shop serving delicious, homemade sweets.  
Explore Western Serbia, including Mokra Gora and Drvengrad, on an amazing day trip from Belgrade.
4. Zlakusa
​The gorgeous village of Zlakusa lies in the valley of the river Djetinja, just 10km away from Uzice. Zlakusa is mostly known for its ethno park, Terzica Avlija; a traditional rural household that nowadays serves as a museum and cultural centre. The park is run by a non-profit organisation which aims to preserve local traditions and promotes sustainable development in Zlakusa.
If you fancy a pleasant 45-minute walk through the countryside whilst you're in Zlakusa, head to Potpecka Pecina Cave, which has one of the largest and tallest cave entrances in the world. You can go on a tour through the dimly-lit passages of this impressive cave, which was formed by the waters of subterranean rivers, some of which are still active.
5. Zlatibor
​The mountainous region of Zlatibor is a popular area for hiking and skiing. Its cool alpine climate and clean air has turned Zlatibor into a health resort. In Serbia, people suffering from respiratory health problems are often instructed by doctors to spend a few days in Zlatibor. ​
The town centre of Zlatibor is a popular tourist resort, with numerous vacation homes, hotels and restaurants. There are also a few open swimming pools and other sports facilities.  
Want to spend a few days in beautiful Zlatibor? Book a room at one of the many cosy hotels in Zlatibor.
• • •
Enjoyed this post? Pin it!
This post contains affiliate links. This means that I may receive a commission on any purchases made through the links in the post at no extra cost to you.