The Isle of Skye is a hiker's paradise. This geologically diverse island on the west coast of Scotland has terrain that is both spectacular and sinister, yet there are plenty of walking routes that are reasonably safe in good weather.
"Nice weather in Scotland?" you might ask.  
But what if I told you that it's possible to go for a dip in a freshwater stream, high up in the Scottish Highlands, on the first week of September?
The Misty Isle
"People do go missing on the Isle of Skye," my husband, who grew up with the island as his front yard, had warned me before our trip to the island.  
At first I thought Douglas was just setting the scene for a Bear Grylls-styled survival trip, but looking at the vast land of rugged mountains through the dirty bus window, I could see why even the most seasoned of trekkers were likely to get lost in that unforgiving remoteness. It could have easily happened to us the day before at the Old Man of Storr. The mist had been so thick that if we dared stray from the path we wouldn't have been able to find our way back.  
"Now you can see why they call Skye the Misty Isle," Douglas told me as we trudged through bogs, struggling to make out the gigantic pinnacle of rock that on clear days is visible from miles away.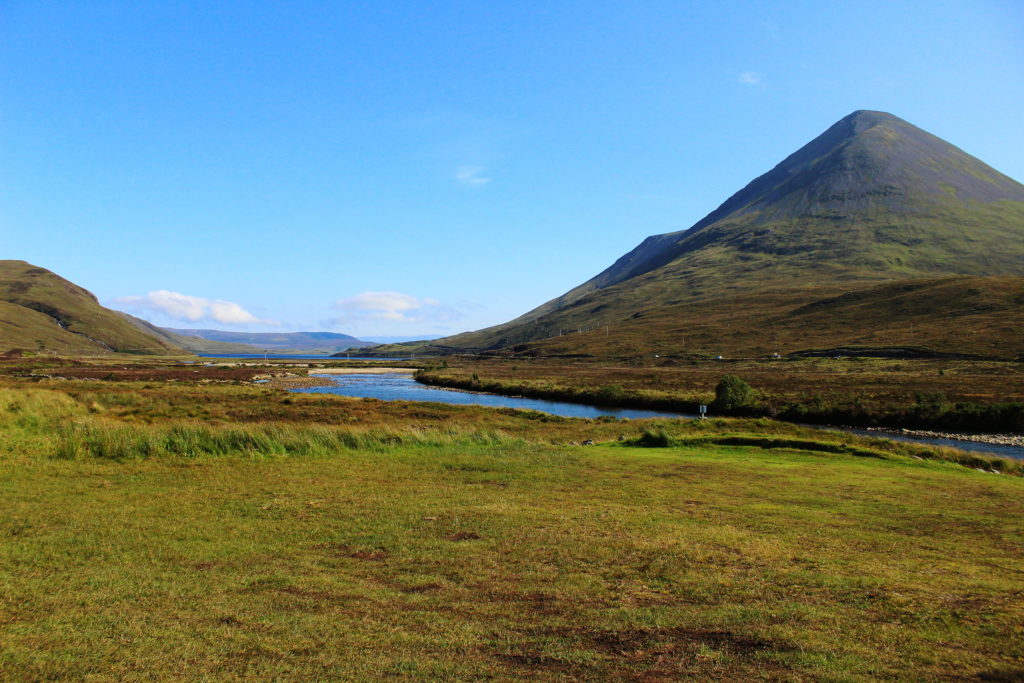 With the events of the previous day still fresh in my head, I braced myself for another fog-filled, rainy day. But when we got off the bus at the campsite in Sligachan, the bare peaks of the mighty Cuillin Mountains couldn't have been clearer.  
"Do you see that?" Douglas exclaimed.  
I scanned the mountains, expecting to spot a golden eagle or a herd of deer. My heart was still pounding excitedly at the prospect of finally encountering an otter, when Douglas turned to me, looking rather nonchalant.  
"Summer has finally come to Scotland."
Hiking from Sligachan to the Fairy Pools
Sligachan is bang in the middle of nowhere, but one thing I've learnt about Scotland is that you're never too far from a pub. So as we struggled with the complicated mechanics of setting up a tent against a strong wind, I comforted myself with the fact that we were just across the road from a hotel, bar and restaurant. For Douglas, however, it was the sight of a brewery on the other side of the road that served as an impetus for surviving our camping trip.  
We started walking away from the campsite and towards the Cuillins, hoping we would still find our tent in one piece when we returned. The wind gradually abated, its whistling giving way to the gentle sound of running water.  
"Are we at the Fairy Pools already?" I asked Douglas, still entertaining the thought of having a warm lunch at the pub.  
The reaction I got from Douglas suggested that I was being too hopeful, if a wee bit daft.  
"Oh God no! We've got another two hours to go till we get to Glen Brittle."
Five hours later we were sitting by the Fairy Pools, watching young men in trunks braving the cold water. We hadn't come across a single soul on our way to Glen Brittle, but now the main path to the pools was teeming with locals, tourists, and overjoyed canines.  
"Five bloody hours," Douglas muttered, munching away on cold sausages that kept attracting the unwanted attention of every dog that trotted past.  
"But I've only taken 80 photos or so on our way here," I protested.  
Hiking back to the campsite
Before getting back on the path to Sligachan, I promised Douglas I'd put my camera away, knowing it would help us reach the campsite before nightfall. We were making good timing, until we came across some sheep.   An hour later, we were skidding over wet rocks and hoping that we hadn't forgotten to pack our torches that morning.  
"Did you honestly feel the need to stop for a conversation with that sheep?" Douglas said, gasping for air.  
I looked up at the darkening sky, then down at my camera.  
"I took a few photos of it, too."
We approached the first sign of civilisation just as the sun cast its final glow on the red Cuillins. The cold evening air had started to set in, so the need for a warm pub dinner and a pint was undisputed.  
The Seumas Bar at the Sligachan Hotel is known for its extensive selection of whiskies (over 300) and home-brewed ales. Despite being the only pub in the area, the menu is reasonably-priced. A generous portion of cullen skink and sweet potato fries was enough to replenish our energy after a long day of walking.  
The midges were out in full force when we emerged from the pub. We made a dash for our tent in pitch darkness, praying that the wind hadn't ripped it out of the ground. By the time we plunged into the tent and secured the zipper, our face and neck had already been covered in midge bites.  
Ah, the joy of camping in Scotland.
What you need to know about the hike from Sligachan to the Fairy Pools
Getting there  
The Fairy Pools are not easily accessible by public transport. If you enjoy hiking, you can stop off at Sligachan and from there walk for just under 5 kilometres to get to the pools.  
It's easier and quicker to get there by car as you can head straight to Glen Brittle, where you'll find a parking lot and a clear path leading to the Fairy Pools.  
Accommodation  
We set up our tent at the Sligachan Campsite, which is at the foot of the Cuillin Mountains and across the road from Sligachan Hotel and the bus stop. The campsite is normally open from April till October.  
There are a few holiday cottages in the area, including the stunning Allt Dearg Cottage.
Or you could stay at Sligachan Hotel, which offers amazing views of the mountains, is pet-friendly, and has its own micro-brewery, and award-winning whisky bar and restaurant.
Type of walk  
If you're hiking to the Fairy Pools from Sligachan (which I highly recommend), expect a few rocky hills and boggy sections. A good dose of fitness and walking experience is required to make it to the Fairy Pools and back in a timely manner.
My husband, who grew up in the Scottish Highlands, has shared his top tips for hiking in Scotland. You can check them out in this post.
Things to pack
Make sure to pack a waterproof jacket, even if the weather looks promising. The weather in the Scottish Highlands can change about three times within a few hours.
A good pair of hiking shoes is also essential for this walk. And if you're visiting in summer, don't forget to pack some insect repellent!
You can find a full list of hiking essentials in this post.
Looking for more amazing things to do on the Isle of Skye? Check out this post.
• • •
Enjoyed this post? Pin it!
This post contains affiliate links. This means that I may receive a commission on any purchases made through the links in the post at no extra cost to you.